The Wrightwood Neighbors Association (WNA) is a community group of neighbors and businesses working together to help improve our neighborhood in Chicago, IL. In the Lincoln Park neighborhood, we are an an all volunteer community group for all people living in the area bounded by Halsted and Fullerton and Lakewood and Diversey.
Our major fundraiser is the Taste of Lincoln Avenue, an annual street festival that raises money for our neighborhood schools, after school programs, charities, food banks and neighborhood improvements.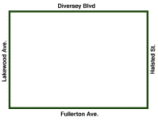 Board of Directors
WNA Alderman
Street Sweeping Schedules
Current Developments
WNA Neighborhood Planning Committee
ELEVATE
(Lincoln & Altgeld) 930 West Altgeld St Chicago, IL 60614
Children's Memorial Hospital Redevelopment
(Fullerton & Halsted) 2400 N Halsted St, Chicago, IL 60614
North Branch Framework (760 acres along the Chicago River between Kinzie Street and Fullerton Avenue) City of Chicago Plan
Crime Prevention
Local News Sources

Newsletter Archive
Wrightwood Neighbors produces a monthly newsletter for our members with updates on WNA meetings, events, new businesses, building development and planning projects within the 32nd and 43rd Wards.
We also welcome input from Association Members, Local Businesses and Neighbors. Contact our Newsletter Committee Chair, Erin Anderson, eanden@gmail.com for more information.
Here are a few of our past newsletters:
2011